Zecher GmbH
About our company
Pioneers of the anilox roller
Everything at Zecher has always revolved around anilox rollers: What began with the production of the world's first regularly engraved anilox roller has developed into an international quality provider of innovative anilox roller solutions. Since the founding in 1948 by Kurt Zecher, we have continuously dealt with the performance of the printing roller, so that we now have over 70 years of experience in the manufacture of your engraved anilox roller.
Customized services for your requirements
For optimum printing results, the anilox rollers must be adapted to your personal conditions – this is the only way to get the best out of your printing process. This is why we offer you a wide range of anilox roller solutions and additional services that we would be happy to tailor to your requirements. In addition, we invite you to benefit from our printing experience. Our application technology team will support you with your printing challenges.
More than 70 years of experience in the anilox roller industry
17 laser engraving systems, 10 mechanical engraving systems
Around 12,000 anilox rollers produced annually
Over 24 million Euro turnover annually
The story behind Zecher GmbH
Today
We have over 17 laser engraving systems available for your engraved anilox rollers.
2018
We celebrate our 70th anniversary.
2016
The innovative SteppedHex engraving was presented at Drupa – for a higher resolution without loss of volume.
2015
Our sales network has long since grown beyond national borders, so that we and our sales partners already provide you with on-site support in over 60 countries.
2012
We presented our specification pyramid for the first time at Drupa: from H.I.T. engraving technology for your optimum white coverage to HD printing for the highest resolution of your halftone prints.
2011
Always keeping an eye on the well-being of our environment: We installed two combined heat and power plants to strengthen our contribution to sustainable energy use.
2008
With the help of our AniloxStrips, you could take a fingerprint of your roller on site and we would analyze its condition in-house.
2004
Our team grew to 120 employees and we were already producing anilox rollers for you on 12 laser systems.
2000
At Drupa we presented our innovative surface finishes (link surface finishes) and our product range was supplemented by additional accessories.
1998
We celebrated the company's 50th anniversary and crowned it with a state-of-the-art coating system. This is where our path to setting new standards in coating technology began.
1989
After many years of research and tests with specialists in laser construction, the time had finally come: The birth of the laser-engraved ceramic roller.
1985
Zecher had long made a name for itself thanks to its high quality and, according to the statistics, was celebrated as the market leader.
1981
We introduced the revolutionary 140L/cm F18.3 to you at Drupa. With this it was possible to transfer an ink volume never achieved before.
1975
Always keeping an eye on the future of printing: We manufactured rasters from 140-170 L/cm.
1970
Thanks to continuous investments, we already had 7 engraving systems.
1951
Just one year later and a major innovation step further, Zecher produced an anilox roller engraving with a 45° angle for flexographic printing. With the help of the diamond engraver, Zecher can already produce ordered rasters with a fineness of 80 L/cm.
1950
Various inquiries from the printing industry sparked his pioneering spirit – he produced the first regularly engraved anilox roller.
1948
Various inquiries from the printing industry sparked his pioneering spirit – he produced the first regularly engraved anilox roller.
Our quality principle
In our four production plants at the company headquarters in Paderborn, our team of over 170 employees produces anilox rollers and anilox roller sleeves for your printing application. Production takes place exclusively in Germany so that we can ensure continuous compliance with our own quality standards. For you, this means that we can reliably reproduce your rollers.
Cooperation with machine manufacturers
For many years we have been working intensively with all well-known machine manufacturers and end users in the areas of label printing, flexible packaging, offset, coating and corrugated cardboard. You can convince yourself of the fruitage of this cooperation at the machine demonstrations at international trade fairs.
From Paderborn to the whole world
Starting out small with exports to Austria and Switzerland, we now have an extensive network of sales partners that is growing continuously. Our Zecher anilox rollers are used today in printing machines all over the world. With our sales partners in around 60 countries, we ensure that your personal contact person is there for you on site and also supports you beyond the purchase of the anilox roller. Find your next contact person quickly.
Your anilox roller manufacturer

Together towards success
Resource-saving use of materials
Certificates from Zecher GmbH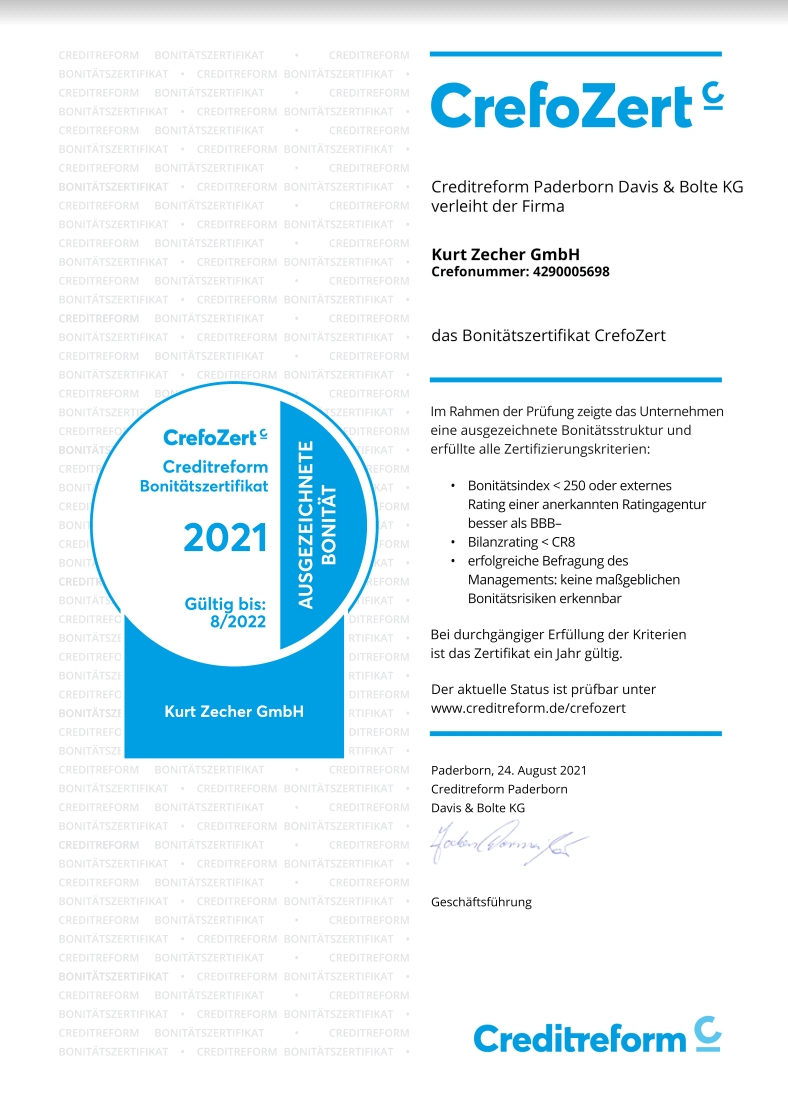 Credit Certificate
Creditreform Paderborn Davis & Bolte KG has awarded our company the CrefoZert creditworthiness certificate. Within the scope of the audit, our company showed an excellent creditworthiness structure and fulfilled all certification criteria.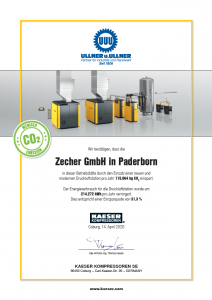 CO2 Savings certificate
By using a new and modern compressed air station in one of our production facilities, we save 115,064 kg CO₂ per year. The energy consumption for the compressed air station was reduced by 214,272 kWh per year. This corresponds to a savings rate of 31.3%.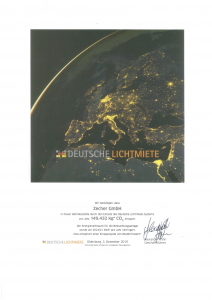 German electricity rental certificate
By using the Deutsche Lichtmiete system, we save 149,432 kg CO₂ per year. Energy consumption for the lighting system was reduced by 262,621 kWh per year. This corresponds to a savings rate of 66.88%.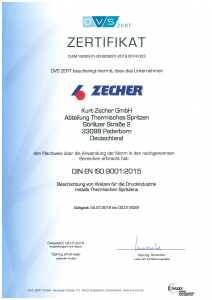 ISO certificate
In the field of ceramic coating technologies, we have been DIN EN ISO 9001 certified since 2004. Compliance with the quality guidelines is audited regularly. In July 2022, a current quality audit took place and the certification was again completed without any complaints.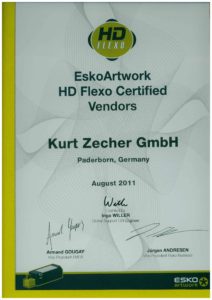 ESKO certificate
Our HD Ready or Full HD engravings for high definition printing applications have been verified by Esko. Due to the rigorous certification process, this has become the highest quality benchmark in print technology worldwide and holders of the certificate are highly regarded internationally for their authoritative print quality.
Our corporate mission
We know what is important to us and align our actions with it every day. We always keep an eye on our common values in order to keep getting a little closer to our objectives.
Environment
Through the resource-saving use of materials and energy and through the use of ultra-modern, low-emission manufacturing processes, we make our contribution to the protection and preservation of our environment. We consider potential damage scenarios in advance and define preventive measures.
Employees
Our employees are our guarantee of success and our most important capital. The further development and qualification of our employees has a high priority in our company.
Continuous improvement
We ensure the long-term success of our company by means of continuous improvement processes in all areas of the company.
Customer satisfaction
Customer satisfaction is the guiding principle of our daily activities. The close and direct contact with our customers helps us to understand their needs even better and to focus on these customer requirements.
On-time delivery
We are committed to providing our customers with on-time, reliable performance, both on the product and on the service level. All employees focus on the obligation to deliver our products to our customers on time.
Profitability
The benchmark for our entrepreneurial success is sustainable and positively developing profitability and healthy growth.
Suppliers
We are committed to providing our customers with on-time, reliable performance, both on the product and on the service level. All employees focus on the obligation to deliver our products to our customers on time.